 simple design, comprehensive functionality
Unlike most EHR software that are tedious to work with, enki EHR is a delight
enki EHR software is a simple yet powerful software platform that makes it easy for you to use technology and stay compliant. Clinician friendly design seamlessly integrates with your workflow. Built-in interoperability plugs into many practice management systems and meets compliance mandates. HIPAA-compliant cloud technology saves money and time and offers great flexibility to move around. Data transfer is automated so your earlier records are always safe.
enki EHR scales to meet your needs – from solo practices to large groups to surgery centers.
enki EHR software helps you to do more by hiding complexity that you otherwise have to deal with.
enki EHR software integrates with other systems that support modern interoperability standards.
enki EHR can be set up within 24 hours. Customizable design makes training easy.
The customization of the program provided by the enki team kept us efficient while maintaining the necessary quality standards. The ability to edit reports to fit each physician's needs allowed for greater flexibility amongst the providers.
I have portability. My records are available in the office, in the hospital, in my endoscopy suite, at home and on the go.
Hassle-free EHR software. Fresh. Easy to use.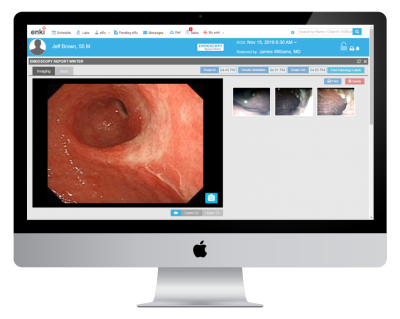 A refreshingly simple endoscopy report writer without the bells and whistles
Cloud-based. GIQuIC certified. Easy to use.
As a busy gastroenterologist, you need an efficient way to: – 
enki ERW builds on all that and more. It's the most advanced system available in the market.
Cloud-based system offers access to medical notes from anywhere
GIQuIC certified for compliance reporting
Plug and play model significantly reduces implementation time
Integrated pathology label printing module
Automated notes builder with easy customizations
Automated Adenoma Detection Rate calculation and reporting
enki Endoscopy Report Writer
The enki endoscopy report writer has been invaluable to our surgery center. The user-friendly templates, that are more intuitive than not, are used by our team every day. The support team has worked well for us with fast responses to our inquiries and requests for help; with everything from user access to switching photos from one report template to another.
They were able to customize, making our work more simplified and streamlined. Overall, the impressions from our GI team are that enki is a system compatible with the functions required by us and is a service that allows us to protect patient information and serve our patients to the fullest extent possible.
Thank you for everything you do to help us with our work here, and for being available to us!"
Jessica R., RN